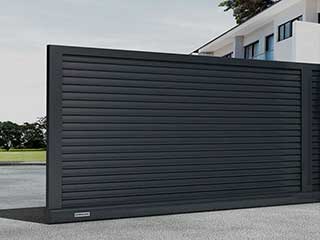 The last thing any commercial business owner wants is for people, be they employees or customers, to not be able to get in or out of their premises. The security of your property is very important, so if the alternative to dealing with automatic gate problems was only to not have one, that wouldn't fly. Luckily for you, that's not the alternative. Whenever something goes wrong with this system and the traffic into and out of your business grinds to a halt, give our experts a call and see how the problem goes away in record time.
The Moving Mechanism
Whether you have a large sliding gate, a wrought iron swinging mechanism, or a lifting barrier like the one commonly found at parking lots, our team can help. Each type of system can experience different issues, from rusty hinges that need to be welded, to damaged frame or bent track. Physical damage to the structure of the gate itself or its supporting hardware components won't just affect the aesthetics of the system, it can also influence its performance, causing it to get stuck or fail to open or close at all.
Electric Opener Troubleshooting
The device that automates the movement of your gate is the opener. It's important that it's powerful enough to actually move the system without overstraining and overheating. Naturally, the material and size of the system will determine how much horsepower will be required. Large scale sliding steel gates will need a more powerful opener than, say an aluminum swing-type system, that's comprised of a frame with bars, as opposed to an entire slab of steel. The motor of the opener can burn out from constant use, and its internal electric components are also liable to fry due to power surges and other issues. You may wake up one morning to find that the automatic gate simply won't open. Whatever the case may be, rest assured that our technicians have the skills and the experience to help you out in very little time.
Intercom System Repair
Perhaps one of the most important things for a commercial business is to be able to communicate with visitors who are waiting at the gate. It's important to not just let anyone in, and therefore, you need to be able to verify the identity of the persons waiting there, with audio or visual feedback, or with both. Of course, just like any other complex device, the gate intercom can malfunction. Wires can detach or tear, the exterior casing can get damaged, and the circuit board or the software can glitch. Problems with the intercom system range from minor inconveniences to major security issues, and they can scale up over time if neglected.
Give Us a Call
Your business won't be compromised for long, not when you contact our experts at Gate Repair Altadena. Our same day emergency service policy means you can expect our professional technicians to get to you as quickly as possible and address the problem head on.