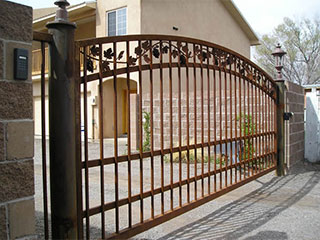 Needless to say, keeping your property safe and secure is important. An automatic gate is a vital part of any security system, since it protects the most prominent entry point. There are many different types of residential security gates available on the market these days, and deciding which one is right for you is often challenging. That's why our team put together this quick guide to explain some of the different options to you.
Sliding Security Gate Systems
Sliding gates are a common sight, and are a very good choice for protecting your property. This style of mechanism has no real weak points, since it's firmly attached all along its length. However, it's important to bear in mind the amount of space it will take up. As the gate moves laterally, sliding to the side, it will require a significant amount of space - usually the width of your driveway plus a little extra.
Swing Gate Designs
This type of system will be familiar to homeowners everywhere, as the system's doors or "leaves" simply swing out of the way just like a normal door would. These systems can have one or two leaves, and can swing up to 180 degrees each. However, they can pose a problem in situations where uncontrolled traffic may be passing in front of the property, or if the swing gate is to be set up close to a street. Because they can easily obstruct the areas around them when they move, it's important that no pedestrians or vehicles are in their path. Swing gates are also difficult to install on sloped driveways, since they can struggle to clear the ground. It's not impossible to do so, but if your home has a sloped driveway then you should contact us to find out what can be done.
The Materials Matter
If you need to add security to your property, then the material your automatic gate will be made of is just as important as the type of system you get. Steel gates offer an excellent combination of strength and affordability, making them a great choice in many situations. Wrought iron bars add both visual appeal and security, but they may require more maintenance than you'd like. To find out more about the many different options available to you, simply get in touch with us at Gate Repair Altadena today.