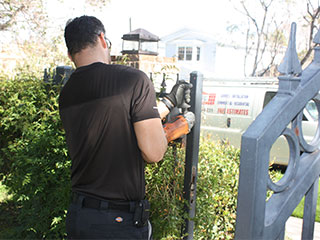 A faulty or unreliable driveway gate system is difficult for any homeowner to deal with, and can pose a real inconvenience, not to mention, safety and security hazards. When you find yourself in need of emergency repair services, our professional technicians will be there to help.
Solutions For Intercom Problems
An automatic driveway gate is no use at all if the intercom doesn't work - how can you allow visitors to enter if you can't hear them and verify their identity? Our team will track down the root cause of the problem, and identify whether your intercom requires rewiring, new parts or even a complete replacement. Count on us to complete the required repairs in the shortest time possible.
Gate Opener Repairs
Many common issues can be tracked down to a problem involving the electric motor unit that powers and controls the movement of your gate. This crucial device can experience both mechanical and electrical failures, which can lead to slow, unresponsive or unreliable performance. The opener is often the most complex part of the automatic gate system, and therefore issues involving it can be hard to diagnose. However, whether it's damaged gears, circuit board problems, misalignment of the safety sensors or anything else, our technicians will be able to quickly provide a lasting solution.
Performing Gate Realignment
Damage to the hardware parts like the wheels or the track can lead to a situation where the gate will need to be realigned. Our team knows exactly how to solve this type of problem, and how to carefully return the frame to its proper position. A gate that got off track will be impossible to operate, and will be a major security breach. Once the system is properly re-aligned, our technicians will inspect the entire mechanism for any signs of damage, and fix any issue they discover.
Schedule a Service Appointment Today
Don't hesitate to get in touch with our team here at Gate Repair Altadena when you encounter a problem of any kind. Our technicians work on weekdays and weekends, and our commitment to providing same-day services for urgent problems means you can rest assured your issues will be solved as quickly as possible. If you're looking for the best gate repair services near you, then our team is the one to call.
Couldn't find what you're looking for? We also offer:

Wrought Iron Gates

Linear Gate Intercoms

Hinge Welding Repair

Ramset Gate Openers