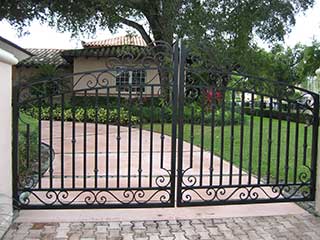 If you're thinking of having a new driveway gate installed there are some things to consider before you make your final decision. This type of system is a major projection asset for residential homes and commercial properties and can be somewhat expensive. Take the time to do some research before you decide which type to go with. There are, after all, a lot of options to choose from, so you may as well understand what each variation has to offer.
The Available Materials
Wrought iron gates are known for their elegant and prestigious look, and this type of system can certainly add a certain amount of class or style to your property. However, it is also more expensive usually, as well as heavier. It also tends to require more frequent maintenance and needs to be repainted to prevent it from rusting. Wood is another great looking option, as it too offers some classic curb appeal. But nothing is without potential downsides, and wood also requires maintenance, as it can rot or warp. Steel is excellent for enhanced security and durability, but it isn't as eye-catching, and - when it's in the form of complete panels and not bars - it can be very heavy, and will require a more powerful electric opener to move automatically.
Different Types Of Mechanisms
When it comes to driveway security gates, there are really only three types available. You can choose from a swinging, sliding, or the less common bi-parting versions. If you have the required space in front of your property, then any of them can work. However, some, like a sliding gate, will be more suitable for certain circumstances, like if they need to be installed on a slope. Of course, some claim that a swing gate is much more appealing that one that slides, so the choice ultimately comes down to whether or not one can be installed, and what your personal preferences are.
The Required Horsepower
Naturally, the heavier the gate, the more powerful the opener will need to be. Every factor correlates to other factors, of course, so the material you choose will determine the motor's required HP output, and the type of gate you decide on will determine which type of opener you can use. Each system uses different drive systems, that aren't interchangeable. From robot arms to chains or even rotating pillars buried underground.
A Few Extra Considerations
There are, of course, lots of other things to consider, from the intercom system to smartphone compatibility to various safety features that your new driveway gate can have. It's important that you consult with professionals (like our team!) to ensure that you're making an informed decision that will serve you for a long time to come.